Sarshan has some new friends… Undead. A 3 headed skelton, some wights… and cyclopi 4 4 of them in this case… the 3 headed one with the crowns is the leader in my estimation.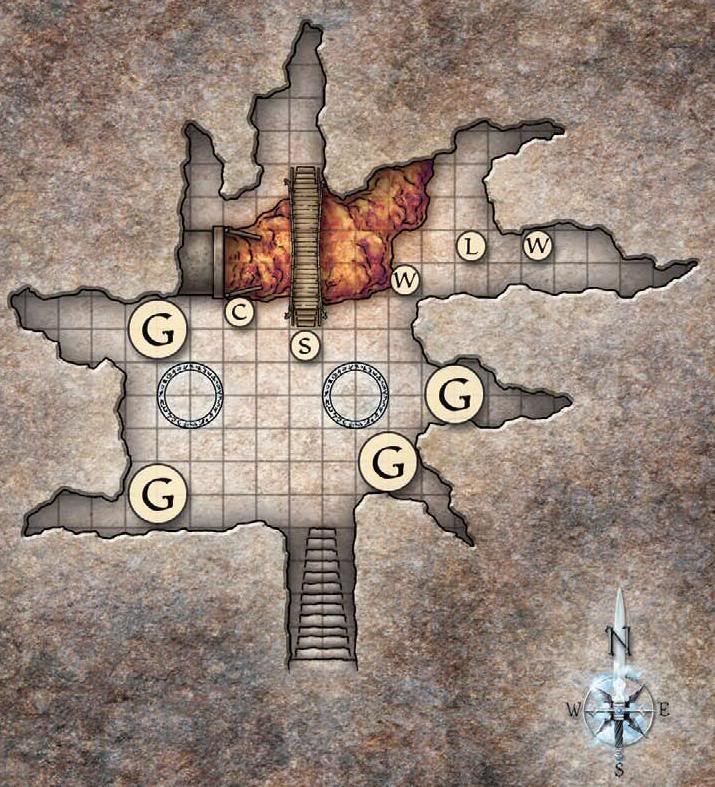 One of the wights moved to intercept us.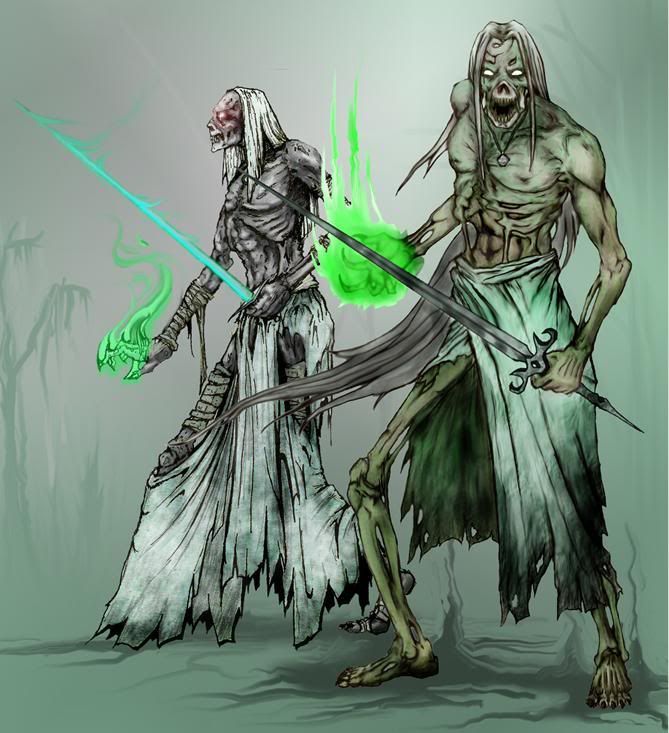 Mcshane nailed him with some sort fo spell I had not seen before that left the wight confused. I took the opportunity to race past him and attack the other wight, engaging my lightning strike that teleported me to my real target the 3 headed skeleton… My blade bit into bone, and decayed flesh blasting an extra bit of fire into them, as I also dropped my Hex upon the skeleton king demanding his attention. Gil followed me in a move I had never seen him do…

Rushing past all of the cyclops daring them to take a swing at him as he wove his sword in an intricate defenseive pattern that cut all of the cyclops down as he ran past them. most impressive. but the Skeleton king had some tricks of his own. One of his heads looked across the battlefield and suddenly one of the cyclops stood up pinning Gil between itself and one of the wights… a tough spot, as the wight started attacking, stealing vitality with each hit, forcing us to remain rooted as the stealign sapped the strengths from our legs. But the king wasn't done. He blasted me with fire, and then pushed Gil into the lake of blood chaos.
With Gil gone the wight focused on me stealing my vitality and rooting me… but I have a few tricks allowing me to teleport around, allowing me to be able to get to the Skeleton king… with a mighty overhad swing I crushed the skull that was reanimating the cyclops, while flasting fire out at the rest of the undead surrounding me… Something about these wights stirred my soul… a need to subjugate them… demand their obediance… I felt my body flush, I felt my very soul vibrate. I realized that I had grown a few inches, my muscles bulged, and I felt my entire being burn… Stronger than I had ever been, and more viscious.


Fell Reckoinning sang to me at my transformation urging me on to destroy these foul minions of Sarshan… my aim was true my will strong and I was able to track the Skeleton King everywhere he went not allowing him a moment of respite… Suddenly Sheldon leapt next to me, assiting me in dispatching wights and skull King… At thisd point I noticed Gil was in a tough spot. I tried to grab him with my lightning Lure and oull him from the chaos, btu one of the befouled wights clipped me throwing my aim off… and he remained there burning. Yamis blast forth the will of Pelore trying to dominate the undead but their ties to the undeath were strong. They mostly ignored the exhortations of Yamis until he started blastign them with bolts of light that fried them upon contact. I returned to the Skeleton king, as he blasted Sheldon with a shot of fire… My Hex engaged and I teleported in behind him laying a crushing blow on his second skull shattering it. Sheldon recovered from his near swim in the blodd Chaos and stood opposite me with the skeleton in between. He spun, and threust upwardly into the skulls eye socket… the point of his blade popping out the back of the skull, but still the king persisted. Yamis flung rays of light at it but missed… I summoned all my hatred and energized my blade with fire… splitting the skull in two… the king fell.
Gil had found a spot wher ehe could hang on to the bottom of a root and pelt the other wight incessently… and it fell below the surface unmoving – hopefully returned to normal death., while Yamis and McShane concetrated on the remaining wight… in shor torde rit too was felled, btu as a whole we all lost a lot of our vital energies to the undeath… and needed to recover.
Despite my intese yearning to pursue Sarshan immediately, I knew that in my current state our meeting would liekly mean all our deaths… I set about trying to unlock the secrets of the portals and resting… My body returned to its normal form and the fire within me saited… I had not know I had that inside me…
With practice I think I could summon that again…